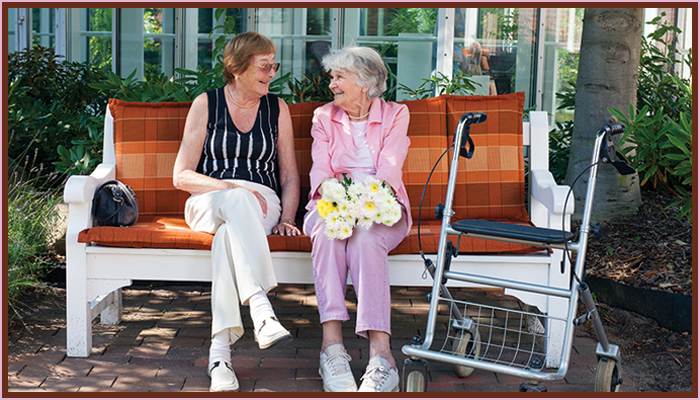 Even in a Nursing Home, Caregiving for a Loved One Continues
Part I of III
The decision to place a family member in a nursing home is a difficult one. The mental and physical demands of around-the-clock care for someone who needs help with the activities of daily living can be enormous. If circumstances make assistance from outside sources (like home or health care providers) impractical or impossible, placement of the individual in a skilled nursing facility becomes the only viable option.
The choice of a nursing home can be a daunting task, and the cost is exorbitant. According to Genworth's 2015 Cost of Care Survey, the median cost for nursing home care in Florida is over $87,000 annually for a semi-private room. The cost for a private room can top $96,000! So, extensive research, site visits and financial planning are imperative before making this important decision.
Once your loved one is settled in to the new environment, you might think that your work is over. Your husband, wife, father, or mother is now being cared for by health care professionals, and it's less likely he/she will cause harm to himself/herself, or wander away from home. However, even professionally managed establishments are not perfect, and you should stay vigilant to monitor the care your family member is receiving.
Visiting. When possible, try to place your loved one in a nursing home that is close to your residence, so you can visit frequently. The best time to assess conditions at a facility is during "off hours," like weekends and evenings. If close proximity to the facility is not possible, take comfort in knowing that volunteers (oriented in providing for the physical and emotional needs of the residents) often visit rehab and nursing facilities. Volunteers can conduct drawing, painting, dancing or singing programs. They may organize choral groups during the holidays and can provide specialty services to individuals, like hair and nail care, which would be too time-consuming for the staff.
What to Bring. Many items can bring a smile to a resident. Everyone loves photos, both recent and long past. Videos of family, too, can be watched (and shared) over and over. Beloved items, like a special blanket or pillow, clothes and personal items are perfectly acceptable, as long as they cannot cause harm to the resident. All items should be marked for identity purposes. Avoid bringing perfumes or fragranced lotions. If your relative's room is semi-private, ask the staff before sending flowers. It is not acceptable to bring in any type of drugs, even common over-the-counter medications. These could interact with your loved one's current medications or otherwise interfere with his/her condition.
There's so much more to talk about! Next time we'll discuss the things to look out for, and be proactive about, when you visit your loved one. I want to thank Joanne Meshinsky for assisting me with this three-part series. Joanne spent three decades as an R.N. in long-term care, and assessed medical records for quality of care at nursing homes in Maryland. In the early 1990s, she authored the book, How to Choose a Nursing Home.
Have a financial question you'd like answered here? Email: Questions@PlanStronger.com
---